Diabetic socks are specially designed to enhance blood circulation, reduce the risk and occurrence of foot injuries, and keep the feet dry.
Patients and individuals with diabetes are at a high risk for nervous and circulatory system damage due to high blood sugar levels. They are also at a high risk for foot ulcers. Diabetic neuropathy i.e. nerve damage reduces the sensations in their feet. Reduced sensation in the feet makes patients less aware of an injury or infection while increasing their risk, making them less likely to visit a doctor for such issues.
The circulatory problems that result from diabetes also reduce the ability of the body to heal wounds that may occur on the feet, as constant blood supply is needed to heal injuries. Diabetes also hinders the functioning of the immune system, further decreasing the body's ability to heal.
Hence, diabetic socks have become a key aspect of the foot care within diabetes management. But not all patients with diabetes require them. If you are a patient of diabetes and experience the following, you may require diabetic socks:
● Any changes in foot colour and/or temperature, irritation, fungal infections, blisters, or nerve damage
● If your feet are constantly sweaty and moist
● If you have a decreased pedal pulse (this measurement is taken at the top of the foot, behind the inner ankle)
If you experience any of these symptoms, it is recommended that you wear diabetic socks only. However, if you don't, you should benefit by just wearing regular socks; but if you are going to travel, where you will be sitting most of the time, it is recommended that you wear diabetic socks to prevent swelling and keep good blood circulation.
Women with gestational diabetes are also recommended to wear diabetic socks as they are at risk for deep vein thrombosis.
Features of Diabetic Socks
Diabetic socks are made to include several features that cater to the needs of diabetic patients and help them to prevent problems they are at risk for:
Seamlessness
Diabetic socks are typically manufactured without seams by the toes. This seamlessness helps in reducing rubbing and blistering on the feet, which reduces the risk of ulcers in the feet. Sometimes, these socks will also have white soles in order to reveal any draining of wounds or sores on the feet.
Non-Elastic Binding
Diabetic socks are made in a way to prevent them from riding down. They are made to stay in their place. However, they are made to stay up without squeezing the calves; they promote blood flow instead of restricting it.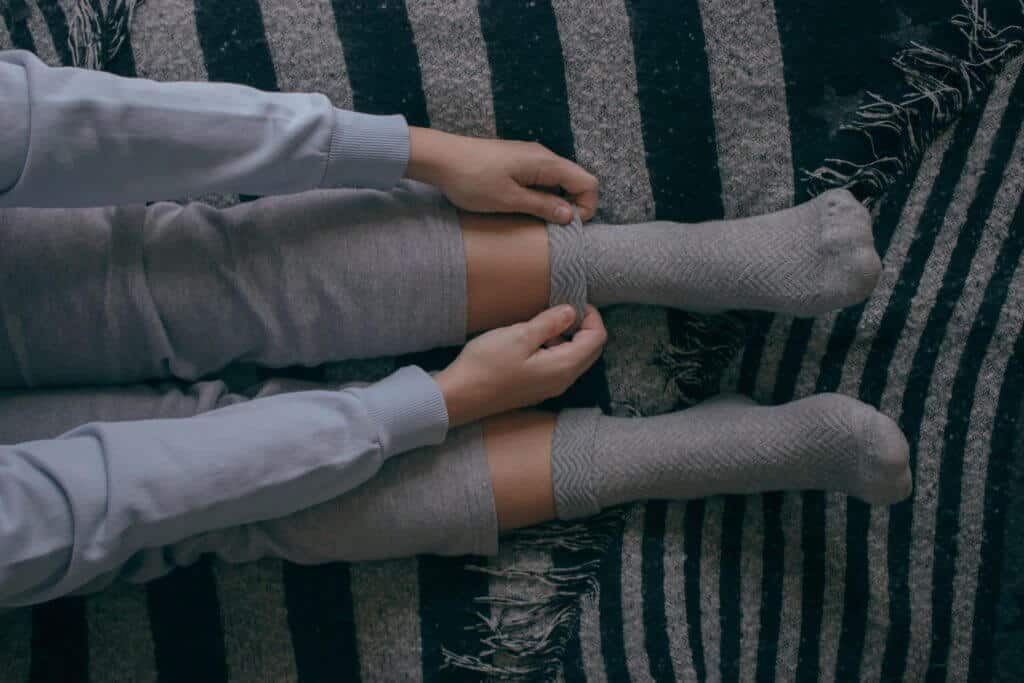 Moisture-Absorbing Material
Moisture-absorbing and moisture-wicking materials are designed to evaporate sweat from the foot. This keeps the foot dry and prevents odor, fungus, and infections. The more the foot remains dry, the more protection it receives.
Moisture-wicking fabric made of acrylic fibers is better at absorbing moisture than those made of cotton.
Softness
Most diabetic socks are made of soft fabrics that are fine-textured such as those made from bamboo and wool. The softness of these fabrics reduces blisters and friction, preventing injuries and wounds as they are not as abrasive on the skin.
These fabrics also have natural anti-bacterial properties, adding additional benefits besides their softness.
Padded Soles
Padded soles provide additional comfort; they help to avoid pain in the foot. They provide support and prevent injuries, especially during strenuous activities.
Socks can also vary in the placement of their padding. Those who exercise often can make use of diabetic socks that have padding under the ball of the foot. If you're going out for an activity that would require you to stand for a long amount of time, you could purchase socks with padding by the heels. If you play sports, especially soccer or tennis, you may benefit from socks that have padding by the toes.
Padding can be made from silicone pads or from thick fabric.
Warm
Diabetic socks are also designed to keep your feet warm; this prevents blood vessels from restricting and improves blood circulation.
Antimicrobial Properties
Some diabetic socks are made with yarn infused with either copper or silver. These elements have naturally antimicrobial properties – they prevent infections and fungus while also preventing odor.
Smart Technology
Some diabetic socks have built-in sensors that detect and measure the formation of foot ulcers, foot temperature, pedal pressure, etc. These sensors are usually linked to a coined-shaped battery placed in the sock.
Diabetic socks that come with such smart technology are usually linked to an app that helps you track all the things the socks measure.
Lengths and Sizes
Diabetic socks tend to come in a range of many lengths and sizes, so there is always something for everyone.
You can choose the length based on what type of shoes you like to wear, if you live in either a hot or cold climate, or how much support you require. The options are endless.
Care and Maintenance of Diabetic Socks
Diabetic socks can easily be worn and washed every day. With regular wear and washing, they can easily last you around six months. It is important to wash them regularly to avoid bacteria build-up.
To make your diabetic socks last longer, you can wash them in cold water, in mesh bags (which are meant for delicate pieces) in the washing machine, dry them on low heat, and hang dry them.
You may you a sweater comb to remove the fabric that begins to pill.
Where Can I Buy Diabetic Socks?
Diabetic socks are easily available at pharmacies, major chain stores (such as Walmart and Target), and major online retailers (such as Amazon).
Some brands that sell diabetic socks include:
● Scholl's – These socks are made with a soft but stretchable fabric to promote blood circulation. They also include a free flow moisture management technology to help keep feet dry and come with padded soles. They come in sizes for both men and women, in a variety of lengths and colors (black, white, pink, and white and gray combination). They are available at Walmart and Target, as well as on Amazon.
● Segal's – Socks from this brand include a flat-felled seam that controls bruising and rubbing to prevent blisters. They all use Terry cushioning on the sole and are made of moisture-wicking fabric. They come in unisex sizes but in a wide array of patterns and designs alongside the usual colors. You can find them on Amazon and Dr. Segal's website, as well as at Walmart.
● MediPeds – Unlike the other brands in the market, MediPeds makes use of CoolMax technology and Lycra spandex to keep feet dry and prevent slipping. CoolMax is a polyester fiber that is moisture-wicking and is environmentally friendly as it is made out of recycled textile waste. These socks come in sizes for both men and women, but their color range is lacking, having only black and white-colored socks. You can purchase them on MediPeds' website, Amazon, or at Walmart.
● OrthoFeet – These socks are made of Terry cushioning and bamboo fibers, making them soft. They also have a seamless design that promotes blood circulation. These socks are available in unisex sizes and are available in varying thicknesses to accommodate everyone's needs. They are available in black, white, gray, and brown. You can find them on OrthoFeet's website or on Amazon.
● Warrior Alpaca Socks – This brand makes use of alpaca wool, alongside a special comfort band and wide ribbing, to create an extra comfortable sock – it's an alpaca sweater but for your feet. The alpaca wool makes them extremely warm while their unique compression style promotes blood flow. The company claims them to be the "best socks ever". Warrior Alpaca Socks are available in men and women's sizes in five different colours: white, black, purple, blue, and green. You can find these socks on Warrior Alpaca's website or on Amazon.
● Hugh Ugoli – Hugh Ugoli socks are made of bamboo fibers that come in handy in all weather conditions – they keep your feet dry on hot days while keeping them warm on cool days. These socks ensure comfort for individuals with sensitive feet as their toe and heel areas are reinforced. Hugh Ugoli socks are available in unisex sizes with a huge 40 colour collection. You can purchase them on Amazon or on Hugh Ugoli's website.
● TeeHee Socks – TeeHee socks are made up of their signature Viscose bamboo yarn, creating a smooth sock that prevents slipping. TeeHee socks are available in unisex sizes but are manufactured in a multitude of colours, such as their neon collection. You can purchase them at Walmart, on Amazon, or on TeeHee's website.
There are many other brands; it is best to do your own research and to make sure you find the right socks for your needs and problems.
Diabetic socks are an important part of diabetes management; patients must make use of them in order to prevent problems in the future. Your doctor will guide you on how often you need to be wearing them and may even recommend you a pair based on your concerns. If you are a patient of diabetes, you should be diligent with your foot care and follow the advice given to you by your doctors.