Trelegy Ellipta
30 doses for $155.27 – $184.95
Description
Trelegy Ellipta is a combination of fluticasone furoate, an inhaled corticosteroid (ICS); umeclidinium, an anticholinergic; and vilanterol, a long-acting beta2-adrenergic agonist (LABA), indicated for the maintenance treatment of patients with chronic obstructive pulmonary disease (COPD).
This inhaler contains three medications: fluticasone, umeclidinium, and vilanterol. Fluticasone belongs to a class of drugs known as corticosteroids. It works by reducing swelling of the airways in the lungs to make breathing easier. Umeclidinium belongs to a class of drugs known as anticholinergics, and vilanterol is a LABA medication. Both drugs work by relaxing the muscles around the airways so that they open up and you can breathe more easily. Both drugs are also known as bronchodilators.
When used alone, long-acting beta-agonists (such as vilanterol) may rarely increase the risk of serious (sometimes fatal) asthma-related breathing problems. However, combination products containing both an inhaled corticosteroid and long-acting beta-agonist, such as this product, do not increase the risk of serious asthma-related breathing problems. This product should be used for asthma treatment when breathing problems are not well controlled with two asthma-control medications (such as inhaled corticosteroid and long-acting beta-agonist) or if your symptoms need combination treatment. Ensure you mention to your doctor if you are taking any medications whatsoever. This includes weight-loss medication such as Saxenda and Trulicity.
This medication must be used regularly to be effective. It does not work right away and should not be used to relieve sudden shortness of breath. If sudden breathing problems occur, use your quick-relief inhaler as prescribed. Speak to your doctor about mixing Trelegy and insulin vials, pens or cartridges together.
Trelegy contains the carton, medication guide, tray, tray lid, inhaler and desiccant.
Warnings and Precautions
Long-acting beta2-adrenergic agonists (LABA) as monotherapy (without ICS) for asthma are associated with an increased risk of asthma-related death. Available data from controlled clinical trials also suggest that using LABA as monotherapy increases the risk of asthma-related hospitalization in pediatric and adolescent patients. These findings are considered a class effect of LABA monotherapy. When LABA is used in fixed-dose combination with ICS, data from large clinical trials do not show a significant increase in the risk of serious asthma-related events (hospitalizations, intubations, death) compared with ICS alone.
Should not be initiated in patients during rapidly deteriorating or potentially life-threatening episodes of COPD or asthma. Trelegy Ellipta has not been six studied in subjects with acutely deteriorating COPD or asthma. The initiation of Trelegy Ellipta in this setting is not appropriate.
Lower respiratory tract infections, including pneumonia, have been reported following the inhaled administration of corticosteroids.
Trelegy Ellipta should not be used in children younger than 18 years of age. It is unknown if Trelegy Ellipta is safe and effective in children younger than 18.
Before Taking Trelegy
Before using Trelegy Ellipta, tell your healthcare provider about all of your medical conditions, including if you have heart problems, have high blood pressure, have seizures, have thyroid problems, have diabetes, have liver problems, have weak bones (osteoporosis), have an immune system problem, have eye problems such as glaucoma, have increased pressure in your eye, cataracts, blurred vision, or other vision changes.
Let your doctor know if you are allergic to milk proteins, have prostate or bladder problems, or problems passing urine, have any viral, bacterial, parasitic, or fungal infection if you are exposed to chickenpox or measles if you are pregnant or plan to become pregnant (see pregnancy section).
Tell your healthcare provider about all the medicines you take, including prescription and over-the-counter medicines, vitamins, and herbal supplements.
Trelegy Ellipta and certain other medicines may interact with each other. This may cause serious side effects. Especially tell your healthcare provider if you take: anticholinergics (including tiotropium, ipratropium, aclidinium), atropine, other LABA (including salmeterol, formoterol, arformoterol, olodaterol, and indacaterol), antifungal or anti-HIV medicines.
Know the medicines you take. Keep a list of them to show your healthcare provider and pharmacist when you get a new treatment.
Usage
Read the step-by-step instructions for using this medication in the container. Do not use Trelegy Ellipta unless your healthcare provider has taught you how to use the inhaler and understand how to use it correctly. You can also call Insulin Outlet and speak to one of our friendly pharmacists.
Trelegy Ellipta comes in 2 different strengths. Your healthcare provider prescribed the strength that is best for you. Use this medication exactly as your healthcare provider tells you to use it. Do not use Trelegy Ellipta more often than prescribed. Use one inhalation of Trelegy Ellipta 1 time each day. Use Trelegy Ellipta at the same time each day. If you miss a dose of Trelegy Ellipta, take it as soon as you remember. Do not take more than one inhalation per day. Take your following amount at your usual time. Do not take two doses at one time. If you take too much Trelegy Ellipta, call your healthcare provider or go to the nearest hospital emergency room right away if you have any unusual symptoms, such as worsening shortness of breath, chest pain, increased heart rate, or shakiness.
Do not use other medicines that contain a LABA or an anticholinergic for any reason. Ask your healthcare provider or pharmacist if any of your other medicines are LABA or anticholinergic medication.
Do not stop using Trelegy Ellipta unless told to do so by your healthcare provider because your symptoms might worsen. Your healthcare provider will change your medicines as needed.
Trelegy Ellipta does not relieve sudden symptoms of COPD or asthma, and you should not take extra doses of Trelegy Ellipta to relieve these sudden symptoms. Always have a rescue inhaler with you to treat sudden symptoms. If you do not have a rescue inhaler, call your healthcare provider to have one prescribed for you.
Call your healthcare provider or get medical care right away if: your breathing problems get worse, you need to use your rescue inhaler more often than usual,  your rescue inhaler does not work to relieve your symptoms.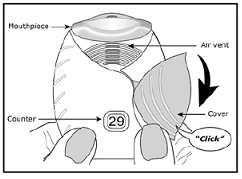 Side Effects
Please visit our resources section, as we have a complete guide to the side effects of Trelegy. Your doctor should also provide you with in-depth information on your prescription.
Chronic Obstructive Pulmonary Disease (COPD)
Trelegy Ellipta is a prescription medicine used to treat COPD. COPD is a chronic lung disease that includes chronic bronchitis, emphysema, or both.
Trelegy Ellipta is used to improve symptoms of COPD for better breathing and to reduce the number of flare-ups (the worsening of your COPD symptoms for several days).
Side effects of COPD are upper respiratory tract infection, runny nose, and sore throat, pneumonia, taste disturbance, bronchitis, constipation, thrush in your mouth and throat, signs of a urinary tract infection, headache, nausea, vomiting, and diarrhea, back pain, mouth and throat pain, joint pain, cough, flu, hoarseness, inflammation of the sinuses.
Asthma
Trelegy Ellipta is a prescription medicine used to prevent and control symptoms of asthma for better breathing and to prevent symptoms such as wheezing.
This medication contains vilanterol. LABA medicines such as vilanterol when used alone increase the risk of hospitalizations and death from asthma problems.
Trelegy Ellipta contains an ICS, an anticholinergic, and a LABA. When an ICS and LABA are used together, there is not a significant increased risk in hospitalizations and death from asthma problems.
The side effects of asthma are: runny nose and sore throat, painful and frequent urination, upper respiratory tract infection (signs of a urinary tract infection), bronchitis, flu, respiratory tract infection, headache, inflammation of the sinuses, back pain.
Overdose
Trelegy Ellipta should not be used more often than recommended, at higher doses than recommended, or in conjunction with other therapies containing LABA, as an overdose may result. Clinically significant cardiovascular effects and fatalities have been reported in association with excessive use of inhaled sympathomimetic drugs. Patients using Trelegy Ellipta should not use another therapy containing a LABA (e.g., salmeterol, formoterol fumarate, arformoterol tartrate, indacaterol) for any reason.
Pregnancy
There are insufficient data on the use of Trelegy Ellipta or its components, fluticasone furoate, umeclidinium, and vilanterol, in pregnant women to inform a drug-associated risk. In an animal reproduction study, fluticasone furoate and vilanterol administered by inhalation alone or in combination with pregnant rats during the period of organogenesis produced no fetal structural abnormalities. In this study, the highest fluticasone furoate and vilanterol doses were approximately 4.5 and 40 times the maximum recommended human daily inhalation doses (MRHDID) of 200 and 25 mcg, respectively in adults. Umeclidinium administered via inhalation or subcutaneously to pregnant rats and rabbits was not associated with an adverse effect on embryofetal development at exposures approximately 40 and 150 times, respectively, the human exposure at the MRHDID of 62.5 mcg. The estimated risk of significant congenital disabilities and miscarriage for the indicated populations is unknown. In the U.S. general population, the calculated risk of significant congenital disabilities and miscarriage in clinically recognized pregnancies is 2% to 4% and 15% to 20%, respectively.
There is no information available on the presence of fluticasone furoate, umeclidinium, or vilanterol in human milk, the effects on the breastfed child, or milk production. Umeclidinium was detected in the plasma of offspring of lactating rats treated with umeclidinium, suggesting its presence in maternal milk.
Storage
Store at room temperature away from light, heat, and moisture. Store away from the bathroom. Wait until you are ready to use the newly acquired inhaler before opening the sealed tray. The inhaler should be thrown out 6 weeks after first removing it from the tray or when the dose counter reads zero. Keep all medications out of the reach of children and pets.

If instructed, do not flush medications down the toilet or pour them down the drain. You should properly dispose of this product once it has reached the end of its shelf life. Get in touch with your local pharmacy or local waste disposal company for more information.